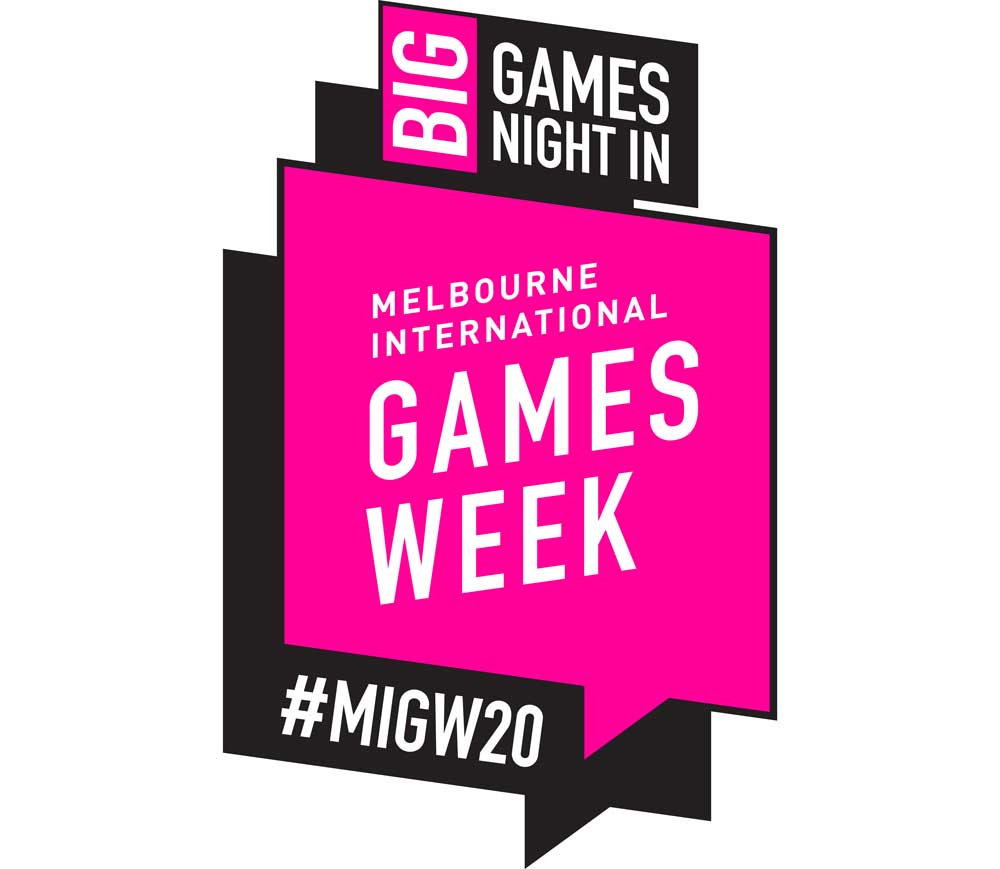 ACMI and Melbourne International Games Week present
Big Games Night In
Sunday 4 October 2020
Game links open from Midday, share your social pics from 4pm #MIGW20 #BGNI
Welcome to the Big Games Night In!
To kick off MIGW, we've partnered with some of the biggest 'players' in town for to host a night that celebrates games in all their forms.
Gather with your household or jump online to connect with players across the globe for an evening that celebrates the many ways games connect and entertain people of all ages.
Play your favourite game, discover something new. Whether it's digital games, tabletop or board games or the hugely popular, live, roleplaying games, you'll find a world of choice and fun for all ages.
Event links will go live on 4 October and here's how to get started!
Digital Games
Did you know that Digital Games continue to be the largest entertainment market globally, worth $250 billion, more than the movie and music industries combined?
ACMI, Australia's museum of screen culture, will partner the Big Games Night In. Click here to see their curated, free-to-access space for all to enjoy digital games by Victorian game developers.
In this online space, visitors will experience new and exciting (even beautiful) games available for families, teens, avid gamers and new gamers alike.
The games, created by some of the most talented developers in Victorian, have been carefully selected by ACMI and include Innchanted (Dragonbear), Necrobarista (by Route 59), Wayward Strand (Ghost Pattern), Touch Melbourne & Rotational Shift (Andrew Gleeson), Terracotta & Dollhouse (Olivia Haines), Hope & Under a Star Called Sun & Endless Scroll (by Cecile Richard), The Fish Market & The Journey to the Party (Grace Bruxner) and Intergalactic Space Princess (Geeiz).
Tabletop Games
Fun Fact! Snakes and Ladders was originally from India, and was a game about achieving enlightenment? It was brought to the English-speaking world during Victorian times, when 'enlightenment' became about 'morals'. If you have an older board, you might see pictures of children doing good things at the foot of ladders or being nasty to one another before they slide down a snake.
To get ready for the Big Games Night In, grab your favourite game off the shelf or why not visit some of the best sites for Tabletop games such as Board Games Australia, or search for your local game shop, get in touch and see if you can 'click and collect'. There are also many tabletop-style games that you can play online, check out a selection of games that you can play online by visiting the Board Game Geek's online games guide.
Tabletop Roleplaying Games
If you fancy really stepping into character, then Tabletop Roleplaying Games (TTRPG) could be for you! TTRPGs are collaborative, improvised storytelling where players create stories together, guided by game rules to ensure fairness, order and consistency. Some popular TTRPGs include the high fantasy Dungeons and Dragons; RuneQuest, a gritty bronze age mythic game; Vampire the Masquerade, set in a world of darkness; and Call of Cthulhu, a horror investigation game.
TTRPGs may have been around since the 1970s but their popularity and accessibility has recently exploded due to people playing online. Rather than physically sitting around a table, friends can play online via Skype, Google Hangouts or Zoom, or on dedicated virtual tabletops such as Roll20, Fantasy Grounds, and Astral Tabletop. All these platforms allow you and your friends to enjoy tabletop roleplaying games without having to be in the same location (or even the same time zone).
On 4 October, our friends at the Victorian arm of TTRPG publisher Chaosium Inc are running 90 minute online demo sessions from 10.00AM - 10.00PM. If you're curious about tabletop roleplaying games, here's your chance to get a taste of what they're all about from the comfort of your own home. No experience necessary, suitable for ages 12+! Sign up for your free session.
And with Melbourne-based pop culture propmakers TYPE 40, Chaosium is hosting TTRPG live play on Sunday evening. Witness a group of Call of Cthulhu players take on horrors of "The Mummy of Pemberley Grange". Will any of these investigators make it out to the end with their lives or wits intact? Live on Twitch TV from 6:00PM - 7.30PM.
---
Don't forget to share your fun on social media from 4pm #MIGW20 #BGNI
Ready, set ...play!