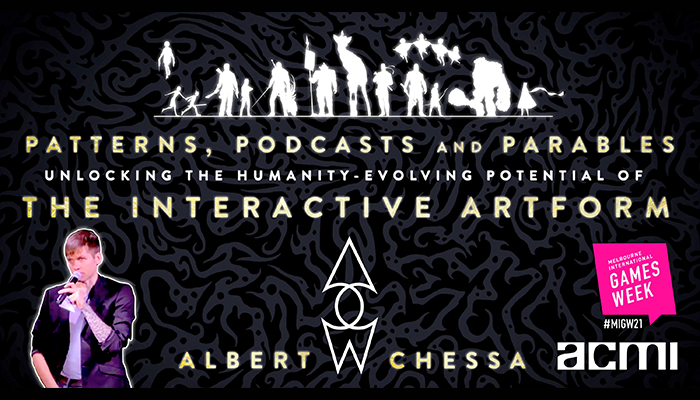 ---
Albert Chessa and Quantumyth in association with MIGW 2021 present: 'Patterns, Podcasts and Parables: The Works of Albert Chessa' in an exciting hour keynote presentation with a 30-minute Q&A at the end.
Have you ever wondered how video games are the future of art? Albert Chessa explores the fusion of future of art with you being the essential ingredient that makes this artform not only exist, but be what it is. There is boundless creativity, unrestrained by the physical work and the ever-emerging technology that surrounds us and has becomes integral to our lives.
As an independent Australian artist Albert Chessa loves gaming, calling it 'humanity's most powerful and empathy-engaging artform'. Since 2015 and across 300 episodes, he has built a 300-outlet strong, 100% independent podcast network, speaking with figures such as Danielle Bisutti (God Of War), Tommie Earl Jenkins (Death Stranding), and Daniel Roebuck (Star Wars: Jedi - Fallen Order). He is developing games inspired by Gen Design (The Last Guardian) and Giant Squid Studio (The Pathless) via his studio, Quantumyth.
Come experience his story.
---
Where: Online
Join Albert on his journey via https://www.acmi.net.au/whats-on/melbourne-international-games-week-2021/patterns-podcasts-and-parables/
---
Event contact: Albert Chessa