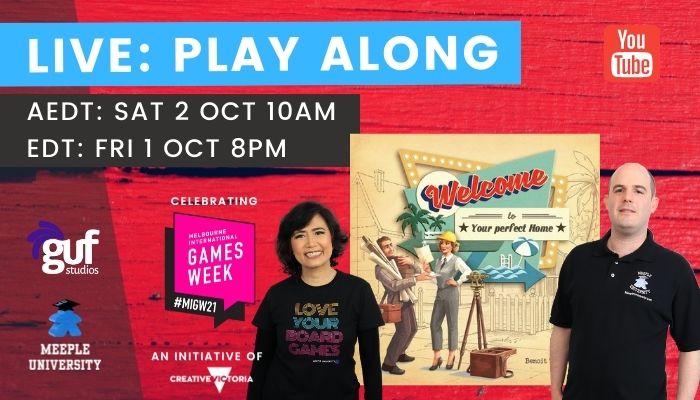 ---
Get your score sheet ready, we're playing the "Welcome To" online together to celebrate Melbourne International Games Week (MIGW)!
This free event will be hosted by board game enthusiasts and experts Stella and Tarrant of Meeple University.
Welcome To is a game that turns players into 1950s architects who take each other on as they build a community that lives the American dream.
Make sure you have access to the live chat, so you can join us and see other participant's comments and you don't want to miss your comments when you read a card goal!
Thanks to the event sponsor Guf Studios, the event will also feature a giveaway with two Australian participants winning a copy of Orchard: A 9 Card Solitaire Game.
Set a reminder on our YouTube live stream
To learn or refresh the rules, watch how to play video beforehand
Download the score sheet, provided by the publisher.
OR download the app as score sheet, search "Welcome To Board Game" on Android and Apple store.
---
Where: Set a reminder on our YouTube live stream
---
Event contact: Stella Jahja