Victorian Fashion Designers Explore a Digital Future Alongside the Launch of Luxury 'Shopping' space in the Metaverse, Semblance World, at MIGW
At Melbourne International Games Week 2021 (MIGW), fashion and tech will take centre stage as part of a Creative Victoria's Creative Exchange event on Friday 8 October.
Bringing together local fashion creatives and global thought leaders, this creative industries event co-presented by ACMI will include the highly anticipated outcomes of the Victorian fashion industry Digital Fashion Incubator and the global launch of luxury fashion space in the Metaverse, Semblance World, supported through a grant from EPIC games.
The Digital Fashion Incubator will showcase the experience of seven Victorian apparel and accessory designers as they explore what digital platforms, such as Augmented Reality and Virtual Reality, can do for their business. An initiative of Creative Victoria and leading VR/AR studio, Ignition Immersive, the Digital Fashion Incubator has given the designers an unprecedented opportunity to delve into new technology and experiment with the way their consumers experience fashion.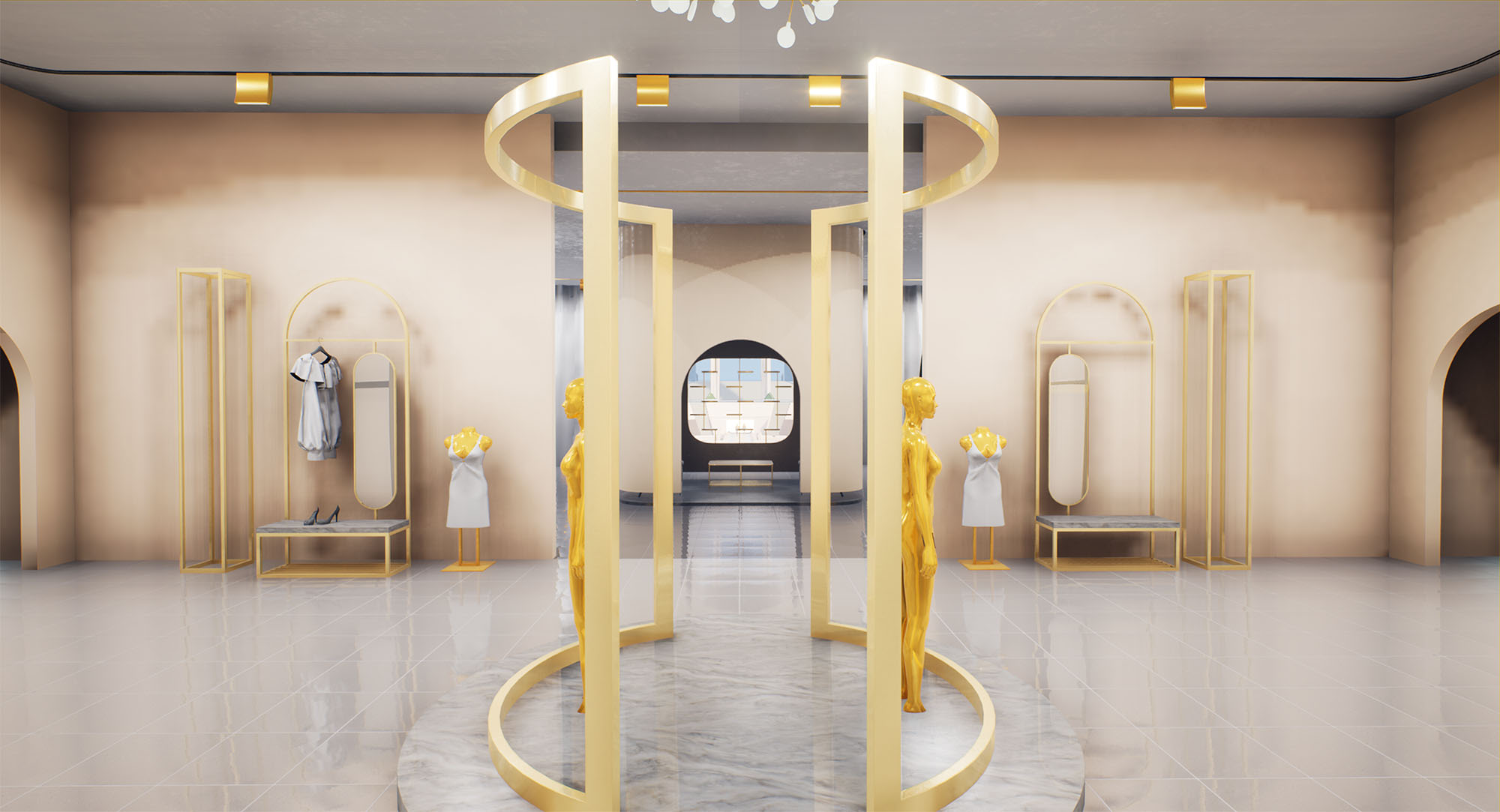 Semblance World
---
From AR accessories in the palm of your hands to 'try before you buy' to fully immersive virtual runways, the designers collaborated with Ignition Immersive on AR and VR technology to create new work and evolve their brands in a way that encourages customers to embrace new tech when it comes to their wardrobes.
"Victoria is the creative state and when creative minds from different fields come together, powerful things can emerge," says Minister for Creative Industries Danny Pearson. "We're proud to support these local designers as they forge new paths, explore how technology can take their business to a new level and share what they've learnt with the wider community."
Three Victorian designers; Ngali's Denni Francisco, Micky in the Van's Estelle Michaelides and milliner Melissa Jackson are working to expand and reimagine their brand story and showcase their collections using VR technology. Designers will create immersive, 360-degree films that take users into their creative worlds, showcasing their inspiration alongside their own pieces.
"Conventional runway shows just don't hold up to our new universal landscape," says Estelle, whose designs are brought to life in the VR platform. "My work is theatrical and moving, so to be able to showcase my collections through short film is the ultimate way to evoke the emotion that is entrenched in the fibres of my work."
Renowned Milliner Felicity Northeast and accessory designer Courtenay Stolz of Maude Studio are using AR tech to find ways for global audiences to explore fashion in 3D in their own environment. Using filters – similar to those you might find on Instagram or Snapchat – consumers can try on designers' items in a virtual 'fitting room'.
Human Chameleon's fashion and costume designer Kristine Walker and jewellery designer and proud Wiradjuri woman Kristy Dickinson of Haus of Dizzy are exploring opportunities to create digital extensions to their collections – 'AR Active' fashion accessories, with potential for new digital revenue streams such as non- fungible token (NFTs). This technology enables a designer's physical item to be 'expanded' through an AR phone application – Consider it like a QR code, but instead of a code, it's a hat, or a jacket, that becomes animated when it's activated.
Kristy Dickinson says: "It is exciting and it's all about embracing new technology and having this AR activation will definitely boost my brand's awareness, sales and hopefully a deep dive into the world of tech."
The Digital Fashion Incubator is an incredible opportunity for these independent designers to get a foothold in this emerging frontier of fashion and gain access to a future in the industry– particularly with the pressures the COVID-19 pandemic has put on the creative industries and small business.
Darren Vukasinovic, Ignition Immersive, says "The rapid evolution of Augmented Reality in all modern smartphones represents an incredible opportunity for designers to reach and influence consumers. Through digitisation of fashion wear, designers can enable customers anywhere to 'try on' fashion and get feedback from their friends before a purchase decision, extend their craft into digital animations and themes that extend upon their core design philosophy, and port their fashion into the virtual Metaverse - a digital frontier that opens up an entirely new and largely untapped economy."
In addition to their own real-world applications, much of the work produced by designers will also be showcased inside a new luxury shopping 'metaverse', Semblance World, launching globally at MIGW.
Semblance World is an immersive virtual platform created by serial entrepreneur and Conde Nast College Board Member, Roberta Annan, and fashion technology founder, Badrriya Henry, that aims to reimagine digital experiences for brands and consumers across the international fashion industry.
Roberta Annan says "The world of Digital Fashion is evolving, and we are excited to be spearheading the first ever metaverse for fashion."
The result of an Epic Games Mega Grant and powered by Unreal Engine, the goal of Semblance World is to empower luxury brands in an age of digitisation, allowing them to create limited-time events, VIP experiences, fashion shows, gamified touchpoints, rentable virtual runways and showrooms, sustainable 3D digital model collections, and educational tools that will extend their reach and provide access to valuable market data.
"Representing personal and artistic expression, fashion will have a huge role to play as we realise the connected opportunities of the Metaverse," says Sallyann Houghton, Business Development, M&E / Fashion Industry at Epic Games. "Semblance is helping to advance the fashion industry towards a digitalised future."
The results of all these unprecedented collaborations will be showcased at the Creative Exchange streamed event, co-presented by ACMI on Friday 8 October from 2–3.30pm
Facilitated by leading fashion journalist, Janice Breen Burns, games industry writer, Jini Maxwell and Public Programmer and Videogames Curator, ACMI, Arieh Offman, the event will include a panel discussion between Ignition Immersive' s Darren Vukasinovic, Micky in the Van's Estelle Michaelides, Ngali's Denni Francisco and Maude Studio's Courtenay Stolz, followed by an in-depth interview with Roberta Annan and Badrriya Henry for the global launch of Semblance World. To register for the free event visit https://www.trybooking.com/BUHFG
---
Event details
FASHION'S NEW REALITY - A Creative Exchange co-presented by ACMI
Friday 8 October 2pm-3.30pm
During the lockdowns of 2021, a group of seven independent Victorian fashion designers collaborated with a leading studio to explore opportunities across digital platforms. At the same time, on the other side of the globe, a team of highly skilled fashion tech entrepreneurs commenced the development of Semblance World, the world's first luxury 'shopping' space in the Metaverse. Join us for this special Melbourne International Games Week edition of the Creative Exchange, co- presented by ACMI, as we share experiences and insights from fashion's new frontier and explore the new Metaverse shopping space.
To register for the free event visit https://www.trybooking.com/BUHFG
---
About Creative Exchange
Creative Exchange is Creative Victoria's long running professional development and networking event program available to anyone working in the creative industries who wants access to the most up-to-date information across the sector.
---
About the Designers
Ngali / Denni Francisco
Founded and led by proud Wiradjuri woman and designer Denni Francisco, Ngali brings Aboriginal and Torres Strait Islander artwork and stories to the street through sustainable silk clothing and collectibles.
Micky in the Van / Estelle Michaelides
A label defined by storytelling, inspired by heart. All pieces are custom made in Melbourne by a small team led by founder and designer, Estelle Michaelides.
Haus of Dizzy / Kristy Dickinson
Proud Wiradjuri woman Kristy Dickinson creates bold, playful, statement-making jewellery that celebrates and honours Indigenous culture.
Melissa Jackson Millinery / Melissa Jackson
Renowned Melbourne-based milliner whose unique, hand-crafted pieces boast an impressive following among race goers, celebrities and the fashion elite.
Felicity Northeast Millinery / Felicity Northeast
One of Australia's most renowned millinery labels, with an award-winning reputation for her Fashions on the Field couture millinery, race hats, headbands and fashion headwear.
Maude Studio / Courtenay Stolz
Maude Studio is an ocean obsession in the form of accessories design, based on the Great Ocean Road on Victoria's Bass Coast.
The Human Chameleon / Kristine Walker
The Melbourne-based label run by Kristine Walker specialises in designing and making non-traditional, theatrical style millinery, costume creations and accessories.
---
About Ignition Immersive
Ignition Immersive is Australia's longest running Virtual and Augmented Reality studio. They work across the arts and corporate sectors delivering industry leading work in Virtual Experiences with interactivity. Their work leads to increased engagement and opens up new possibilities for the way we work, live and learn.
---
About Semblance World
To find out more on upcoming projects and initiatives visit Semblance World.
Epic MegaGrants is a $100 million program set up by Epic Games to globally accelerate the work of talented teams and individuals working with Unreal Engine, 3D graphic tools, and open-source software.
---
About ACMI
ACMI is Australia's national museum of screen culture. Navigate the universe of film, TV, videogames and art with us. ACMI celebrates the wonder and power of the world's most democratic artform – fostering the next generation of makers, players and watchers. ACMI's vibrant calendar of exhibitions, screenings, commissions, festivals, and industry and education programs explore the stories, technologies and artists that create our shared screen culture.
More at acmi.net.au.