Immerse yourself in the games-themed wonderland of Big Games Night Out!
From 5pm to late on Thursday, 5 October Big Games Night Out invites Victorians and visitors to come together at Melbourne's iconic Fed Square and surrounds for an immersive night of games, music and cosplay.
Presented by Creative Victoria in partnership with Fed Square as part of Melbourne International Games Week, Big Games Night Out is a free, inclusive, accessible and all-ages event that welcomes families, casual, social, hardcore and curious gamers from all walks of life to come together and celebrate amongst a spectacle of games, technology and civic ritual.
Join the Big Games Night Out Cosplay Parade and Runway Experience hosted by Myf Warhust and Montaigne!
Big Games Night Out will also feature live performances featuring Tripod, Montaigne and more, games activations, tournaments, games swap meet, intergenerational games meet, immersive audience participation experiences, prizes and so much more to be announced!
Make sure to mark Thursday, 5 October in your calendar as Fed Square and its surroundings are transformed into a realm of games-themed fantasy at Big Games Night Out featuring: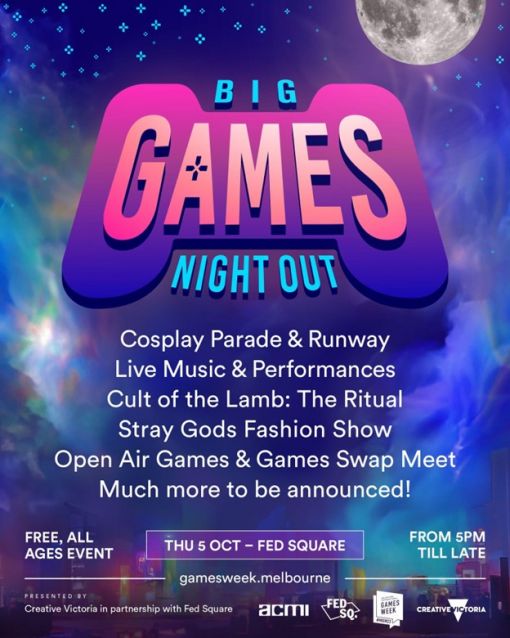 Cosplay Parade and Runway Experience
Open to all cosplayers to participate, regardless of skill level, whether you make or buy your costumes – all are encouraged to sign up here now. It's open to all cosplayers regardless of whether you make or buy your costumes – all are welcome to sign up via the EOI here.
Live Music & Performances
Fed Square's main stage will host live performances from Tripod and Montaigne, games-themed fashion runways, immersive audience dance-offs and much more – the full lineup will drop soon!
Stray Gods Fashion Show
Stray Gods is an upcoming Victorian role-playing musical game expected to impact the games industry greatly. It's an epic story about gods, magic, and a thousand-year journey to rediscover one's purpose in a fantasy world filled with magic, music, fashion, and adventure. To mark the launch of Stray Gods, Big Games Night Out presents a multi-disciplinary event highlighting the game's incredible blend of games, music, and fashion. Eight Melbourne designers will showcase Stray Gods' character costumes and creations in virtual and real life.
Cult of the Lamb: The Ritual
Join everyone's favourite lamb and a cabal of cute and creepy denizens in a spectacular, immersive Fed Square takeover. Presented by ACMI and Melbourne Fringe Cult of the Lamb: The Ritual features jaw-dropping large-scale puppets and performers, a live DJ performance by River Boy and giant animated projections featuring your favourite characters from the hit game. The performance is created by Massive Monster, and features Goldens Scissors Puppets and Jean Poole Projection Mapping.
This event is supported by Fed Square and Panasonic, and made possible with the support of a RISE grant.
Games Activations
From 80's to indie arcade games, tournaments and more – Big Games Night Out will feature a range of free games activations for gamers of all walks of life, including an intergenerational mixer that allows young and mature gamers to play and learn together.
Games Swap Meet
For gamers bored of their board or console games and wanting something new to play, the Swap Meet is where you will find your newest challenge. Gamers are encouraged to bring along and swap their games with like-minded people.
---
Don't forget to follow Melbourne International Games Week on Twitter and sign up for the Cosplay Parade and Runway here.
---
---

Big Games Night Out is funded by the Melbourne City Revitalisation Fund, a partnership between the Victorian Government and the City of Melbourne.